Scott Siegel, DC, CSCS, CPT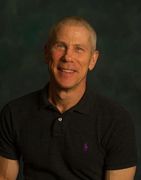 Dr. Siegel is a native of Lincoln Park and an alumnus of Lincoln Park High School. He graduated Summa Cum Laude from Life Chiropractic College in Marietta , Georgia. Since graduation he has taken numerous post-graduate courses in topics such as sports medicine, nutrition, pediatrics and advanced technique seminars. He holds certificates as a personal trainer and as a strength and conditioning specialist from the NSCA. He has practiced in the downriver area for the past 25 years.

Dr. Siegel became interested in the profession as a teenager, when chiropractic care helped him overcome a shoulder injury. He experienced firsthand the effect that chiropractic had reducing pain and wanted to help others achieve these results. Through study and practice he realized that not only is chiropractic an effective pain-reliever, but that it also allows the body to function at it's best. He learned that a properly functioning nervous system could help people overcome many health problems and achieve peak performance.

His approach to health care is to analyze and treat each patient for spinal misalignments and postural distortions, and to make nutritional and exercise recommendations so that the patient can achieve optimum health.